Rakhi Quotes for Sisters
Brainy Quotes:
A good friend knows all your best stories. A sister has lived them with you. - Pam Brown A sister is a little bit of childhood that can never be lost - Marion C Garrety
For a friend who is like a sister:
Your sister is not always a blood relation. Sometimes it's that close friend who understands you, loves you and has always got your back.
For a sister who is like a friend:
Having a sister is like having a best friend that you can't get rid of. Whatever you do, they'll still be there. - Amy Li
For there is no friend like a sister, in calm or stormy weather, to cheer one on the tedious way, to fetch one if one goes astray, to lift one if one totters down, to strengthen whilst one stands. - Christina G Rossetti
Sweet Quote:
She knows where I dream to go
Remembers where I've been
Accepts me as I am
And treats me like a friend
She's always there for me
No matter what or when
And every time I'm with her
It's like coming home again.
Fun Quote:
Bugged me
but hugged me too
tickled me
but treated me too
with a sister like you
I know I'll always have a friend
Missing you Quote:
We may not b able to see each other or listen to each other often but thoughts of you fill my heart with fond memories of the times we have spent together Thinking of you sister
Cheeky Quote:
I smile because you're my sister. I laugh because you can't do anything about it.
Khuda na kare aapko koi gum mile,
Khushiya aur hasi har dam mile,
Gum jab bhi badh chale aapki taraf,
Khuda kare raste me use hum mile.
Rakhi Quotes for Brothers:
Quotes for Big Brothers:
You were always my best friend,
looking out for me, making sure
the path I traveled on was smooth.
Even if I searched the world over,
there cannot be a better brother than you.
Sometimes being a brother is even better than being a superhero. - Marc Brown
Respect rises up so far above
The pettiness of separate view
Differences bow before you
And friendship that is blood-bound, too.
You are my brother and I love you.
Quotes for Younger Brothers:
It was nice growing up with someone like you - someone to lean on, someone to count on... someone to tell on! -- Author Unknown
A friend is a brother who was once a bother. - Author Unknown
After a girl is grown, her little brothers - now her protectors - seem like big brothers. - Terri Guillemets
Spiritual Quote:
I sought my soul, but my soul I could not see. I sought my God, but my God eluded me. I sought my brother and I found all three. - Unknown
Brother - Sister Love Quote:
To the outside world, we all grow old. But not to brothers and sisters. We know each other as we always were. We know each other's hearts. We share private family jokes. We remember family feuds and secrets, family griefs and joys. We live outside the touch of time. - Clara Ortega
We fight for the smallest of reasons. We laugh on the silliest of jokes,
We love stepping on each other's toes. We watch the same Sunday shows,
This list for me is never - ending. My darling brother, you are my favorite blessing.
Hindi Quotes for Brothers:
Door Ho Jaaney Sey Bhai - Behan
Ka Pyaar Kbhi Kam Nhi Hota
Tujhey Yaad Naa Krun Aesa
Tho Koi Mausam Nhi Hota
Yeh Woh Rishta Hai Jo
Umar Bhar Mehak Tha Hai
Tera Haath Sar Par Ho Tho
Mushkilon Mein Bhi Gham Nhi Hota.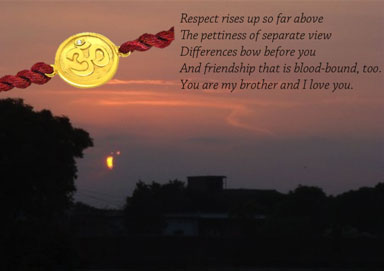 Respect rises up so far above
The pettiness of separate view
Differences bow before you
And friendship that is blood-bound, too.
You are my brother and I love you.
Buy this Rakhi for your brother from IndianGiftsPortal.com

Product Description:
Gold Rakhi in sacred red thread, perfect for Rakhi 2014
Price: Rs. 2701
Send this Rakhi